Pimento wood sticks, chips, pimento leaves and Jamaican marinades for cooking Jerk cuisine!!
How to make authentic Jerk Chicken with Pimento Wood
WE APPRECIATE YOUR INTEREST IN OUR PRODUCTS TO PIMENTO BBQ PRODUCTS AND SUPPLIES INCLUDING CHIPS, PIMENTO LEAVES, PIMENTO STICKS AND MUCH MORE SIMPLY GO TO OUR SHOP PAGE.
The following recipe and process is the most accurate way to make authentic jerk chicken. This is exactly how some of the most famous jerk restaurants in Jamaica do their
jerk! This is a marinade and process that will have your family and friends begging you for more!!
Jerk Chicken prepared with Pimento Wood
Serving Size: Two five pound chickens
Preparation:
Marinade: 30 minutes
Grill Time: 3.5 - 4 hours
STEP 1: THE MARINADE
2 Ounces Cane Vinegar (white vinegar works as well)

2 Ounces of Meyers Jamaican Rum or any dark rum (optional)
2 Cups of light Soy Sauce
1 Head of Garlic
1 bunch of green onions
1 bunch of fresh Thyme
6-8 scotch bonnet peppers OR habanero peppers (cut in half and de-seed)
4 tablespoons of Jamaican Allspice seasoning
1 tablespoon of ground black pepper
1 tablespoon of white pepper
1 tablespoon of Paprika
1 tablespoon of Nutmeg
1.5 tablespoons of Cinnamon
2.5 tablespoons of Brown Sugar
Marinade the birds for 24-48 hours.


Blend all ingredients in a blender or food processor until fine. This marinade will marinade two five pound chickens. Lightly salt and pepper your chicken before adding the marinade.

Be sure to marinade your chickens 24-48 hours minimum.
STEP 2: PREPPING PRIOR TO GRILLING
Soak your pimento wood sticks and pimento leaves in water for 30-45 minutes. Soaking the chips is not necessary but if you do soak the chips 10-15 minutes at the most. You can buy pimento leaves, pimento wood sticks and chips at our SHOP page.

STEP 3: PREPARING THE GRILL
Meat Side
Heat Side
Pimento Wood, Chips and Leaves prior to grilling.
Lay your pimento sticks atop of the pimento leaves (4 pimento sticks will work)
Start your grill up turning the heat under the side of the grill that your smoker box and water pan are. Let the grill heat up for about 10 minutes.
When making Jerk Chicken it is important that you offset cook. Meaning heat on one side of the grill and meat on the other side of the grill. NEVER PUT HEAT DIRECTLY UNDER THE MEAT!! Same thing applies if you are using charcoal or gas!
1. Place a bed of pimento leaves on one side of grill (NON HEAT SIDE)
2. Place your smoker box or foil pouch for the chips and a small pan of water with a few pimento leaves in it for moisture on the other side of grill (HEAT SIDE).
Ready for first Smoke session.
STEP 4: GRILLING
Put two five pound birds atop the pimento sticks and leaves.
First Smoking session.
Let those chips smoke! You only need about 4 ounces of chips, we like to break it up into two different smoke sessions. One at the beginning and one following right after our first initial smoke runs out. Be sure not to over smoke your birds!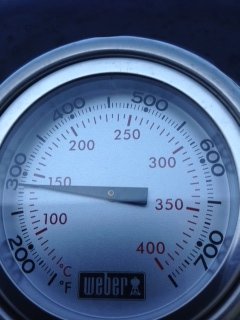 Cook at 275-290 degrees for the first 3 hours. Turn the birds every hour and marinade until internal temp is about 150 degrees internal. Do not let your grill go over 300 degrees or you will dry out your birds.
After about 3+ hours of grilling at 275-290 degrees and your birds get to about 150 degrees internal you can remove the pimento wood sticks and grill directly on the grill and the juices run clear to finish the process to get the birds up to 160 - 165 degrees internal.
Once your birds get to about 160 degrees internal temperature you can take the birds off the grill and wrap in tin foil and let rest for 10-15 minutes before eating. This allows the juices to build up even more!
Serve and enjoy!
You can buy chips, pimento wood sticks, pimento leaves as well as scotch bonnet dipping sauces and much much more at our SHOP page.
Please be sure to our article and you can follow us on facebook as well.